Productos destacados
Los mejores caminos, excursiones y experiencias para ti
Discover
Camino de Santiago

with us

We offer you everythig you need for an unique an unforgettable experience.
---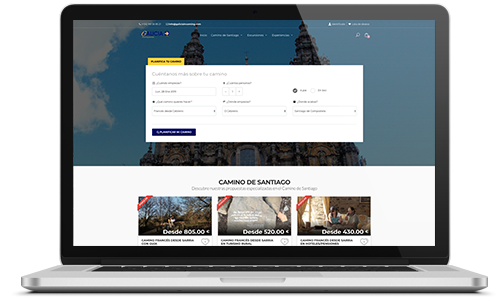 Booking

in GaliciaIncoming

Your are about to live an unforgettable experience.
1

Select your favorite package

2

Add all the options and extra services needed

3

Dowload your voucher and documents
Start now
---
Proxecto Cofinanciado por IGAPE, Xunta de Galicia e Fondo Europeo de Desenvolvemento Rexional do Programa Operativo 2014-2020



El proyecto CONTUR ha sido subvencionado por el IGAPE, la Xunta de Galicia, el Fondo FEDER y la marca turística de Galicia. La ayuda recibida para la ejecución del mismo ha sido de 30.000€. El objetivo del presente proyecto es maximizar la interacción digital entre cinco empresas de la misma cadena de valor a través de la puesta en marcha de herramientas 4.0 que faciliten la captación, tratamiento y explotación masiva de datos de usuario, y se espera lograr responder a las necesidades y expectativas crecientes del perfil de turista de hoy en día y mejorar con ello la calidad de su experiencia.