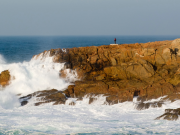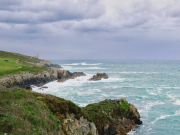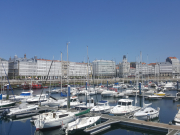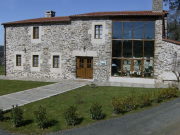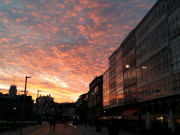 Description
Bono Iacobus English Way from A Coruña
The English Way emerged from pilgrims coming from northern Europe. They arrived by ship and docked at the ports of Ferrol or A Coruña to begin their journey towards the Cathedral of Santiago.
For this reason, although both are referred to by the same name, they are actually two different routes. One is shorter, starting from A Coruña, and the other is longer, originating from Ferrol.
In the latest records collected by the Pilgrim's Office, we can see that this route was chosen by 6% of walkers, which means that more than 10,000 people have enjoyed it.
This time, we propose reproducing the itinerary starting from A Coruña and covering the nearly 75 km that separate the two cities. It is an ideal route for those who want to walk one of the official Camino paths without covering long distances.
In addition, we suggest traveling it by staying in a special way with the Bono Iacobus.
What is the Bono Iacobus?
It is a tourist service specific to the Camino de Santiago that allows you to travel some of its routes, staying overnight in a different rural tourism house each night.
What is included?
You can see a summary of the services included in the package
2 nights in rural accommodation.
Half - Board (breakfast and dinner).
Transfer at the end of each stage to the rural
house and back (if necessary).
Basic travel insurance.
VAT.
Itinerary
Day 1: Stage 1 "A Coruña - San Xoán de Sarandóns (Aquelabanda)" (23 km)
After walking through several main streets of the city of A Coruña, you will reach the town hall of Culleredo through O Portazgo. After passing O Burgo and Alvedro, you will cross the A Xira bridge to enter Cambre. Before reaching your destination, you will pass through the municipalities of Corpo Santo, Belvís, and Sergude.
Accommodation and dinner in a rural tourism house in San Xoán de Sarandóns.

Day 2 : Stage 2 "San Xoán de Sarandóns (Aquelabanda) - A Calle" (21.8 km)
Breakfast to start the stage well.
At 450 meters above sea level, you will find As Travesas, and just a few kilometers later, you will reach Bruma, where this Camino variant joins the one coming from Ferrol. After leaving behind Cabeza de Lobo, As Mámoas, and A Rúa, you will continue towards Oureiro, very close to A Calle.
Accommodation and dinner in a rural tourism house in A Calle.
Day 3 : Stage 3 "A Calle - Santiago de Compostela (29.7 km)
After breakfast, continue the pilgrimage, your final stage.
Before reaching Sigüeiro, you will have passed through A Ponte Pereira, Carrás, or Baxoia. Then, you will only have to cross the Tambre River to enter the municipality of Santiago. A final push to Meixonfrío and then to reach the Cathedral.
The length of the stages is approximate. The end point of each stage may be altered due to the location of accommodations and the transfer points to them.
Useful information
In rural houses, we cannot guarantee that double rooms will have two separate beds.
Reservation requests must be made at least 14 days in advance of the start of the Bono Iacobus.
The Bono Iacobus is not available during Holy Week and the month of August.
Optional services
Extra nights of accommodation in A Coruña and / or Santiago de Compostela.
Private transfer to the beginning of the pilgrimage.
Luggage transfer service.
One day trips (regular or private) to Finisterre, Rías Baixas, Ribeira Sacra...etc., guided tour of Santiago de Compostela...etc.
Optional insurance.
Note: If you want to hire any of these services, include it at the request in the observations field.
Prices
Single room: 255.00 €
Double room: 380.00 €