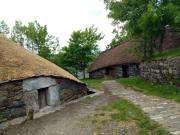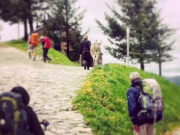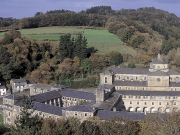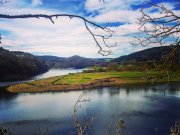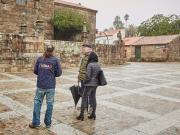 Description
Private Tour to the French Way
Among the network of roads that lead to Santiago, the most traveled and known is the French Way, which enters Galicia by O Cebreiro, famous for its pallozas and for being located in a spectacular landscape of old mountains. The rural landscape of inland Galicia that accompanies this first section of the excursion is, in some sections, of exuberant and even mystical beauty.
Next, we cannot miss the Monastery of Samos, a large 6th century building still inhabited today by Benedictine monks surrounded by peace and tranquility. Once the pilgrims passed through this haven of peace, they crossed the Miño towards Portomarín, where they met directly with the church - fortress of San Nicolás, rebuilt stone by stone in its current location to save it from the floods that would be caused by the construction of the nearby reservoir.
Continuing the way to Santiago we can see the Church of Vilar de Donas one of the best examples of Galician Romanesque linked to the Way, with frescoes dating from 1434.
Almost arriving at Santiago, we will have the opportunity to see, from Monte do Gozo, the city, with the same illusion with which the pilgrims, after having travelled so many kilometers, see for the first time their goal, the Cathedral.
In short, this excursion is the ideal way to travel the Jacobean Route and feel its essence for all those who do not have time or cannot walk.
We take you to enjoy the Way!
What is include?
You can see a summary of the services included in the package
- Tour by van with a maximun of 7 peope.
- Oficial guide/driver during the whole day.
- Explanations at every stop of the itinerary.
- VAT
*Monument tickets are NOT included in the price.*
Itinerary
Santiago > O Cebreiro > Samos > Portomarin > Monte do Gozo > Santiago

Usefull information
- Minimum of participants: 1
- Maximum of participants: 7
- The trip is taylor made so we can adapt the program to your preferences.
- Meeting point: At your accommodation
- Recommended departure time: 9 - 9.30 h to return around 18.30 - 19.00h
Optional services
- Lunch on tour, we have concerted with some restaurants, just let us know your budget.
- Possibility of spend a night on the destination.
- Languages of the tour: Spanish and English. Possibility of other languages under request
- Departures are allways fron Santiago, the extra cost for departure from other city (inside Galicia) is 50€
Prices
fix price: 475.00 €
* Los productos con precio fijo están sujetos a la posibilidad de cambios en el precio final dependiendo de los distintos servicios asociados. Nuestro equipo de agentes se pondrá en contacto contigo si fuese necesario.