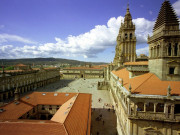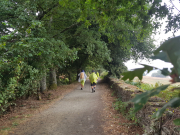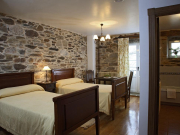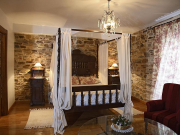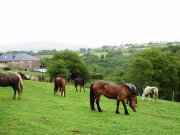 Description
Bono Iacobus - the French Way
With the BONO IACOBUS you can go through the 7 stages of the French Way and enjoy a wonderful landscape staying in rural houses.
The French Way is the best known route among the different historical routes that reach Santiago de Compostela (English Way, Portuguese Way, Northern Way, Primitive Way, Vía de la Plata, ...). It has been recognized by the Council of Europe, in 1987, as the "I European Cultural Itinerary" and distinguished by UNESCO, in 1993, as "Cultural Heritage of Humanity". In 2004 he was awarded the Prince of Asturias Award for Concord.
It has its origin in French territory - hence its denomination - and enters Galicia through an ascending path that reaches its maximum height in the highlands of O Cebreiro. Throughout the Galician tour, the traveler can enjoy the hospitality of the people, a rich and varied cuisine, an important artistic heritage, and in general a whole welcoming country willing to receive the traveler.
What is included?
You can see a summary of the services included in the package
7 nights in rural accommodation.
Half - Board (breakfast and dinner).
Transfer at the end of each stage to the rural house and back (if necessary).
Travel insurance.
VAT.
Itinerary
Day 1: Arrival to O Cebreiro on your own.
Rural house accommodation
Day 2: Stage 1 "O Cebreiro – Triacastela"(25,6 Km).
Rural house accommodation
ay 3 : Stage 2 "Triacastela - Gorolfe" (14,4 Km).
Rural house accommodation
Day 4 : Stage 3 "Gorolfe - Ferreiros" (24 Km).
Rural house accommodation
Day 5: Stage 4 "Ferreiros - Lestedo" (28,5 Km).
Rural house accommodation
Day 6: Stage 5 "Lestedo - A Castañeda" (27,4 Km).
Rural house accommodation
Day 7 :Stage 6 "A Castañeda - Santa Irene" (22,1 Km).
Rural house accommodation
Day 8 : Stage 7 "Santa Irene - Santiago de Compostela" (22,4 Km).
Useful information
*Rural accomodations' double rooms aren't garanteed to have two beds.*
*Reservation requests must be made at least 14 days before the start of Iacobus Bono.*
*The Bono Iacobus can be purchased throughout the year except in the month of August and Easter.*
Optional services
Program of accommodations in Santiago:
2 nights in bed and breakfast charming hotel.
Dinner featuring a "tasty menu" in an old town restaurant.
Visit the Cathedral Roofs.
- Price per person in double room: 165€
- Price per person in single room: 220€
Note: You have the possibility of changing the order of nights stays in Santiago.
*Luggage transfer service.
*Transfer from the principal airports to the beginning of the pilgrimage.
*Picnic service: direct booking at the accommodations. Request it at the arrival to have it ready before the departure. Price: 6€. It includes: 1 sandwich, 2 pieces of fruit, water.
Note: If you want to hire any of these services, include it at the request, in the observations field.
Prices
Single room: 745.00 €
Double room: 1070.00 €